New Campaign Gets On The Road To Inspire Teenagers' Higher Education Journey
A new campaign to increase the number of teenagers from South Yorkshire going on to higher education has been given a boost.
Education chiefs from the Higher Education Progression Partnership South Yorkshire (HeppSY+) have launched a mobile classroom in Sheffield city centre today – Wednesday, October 18th.
Our team of Graduate Interns will tour the region giving talks and workshops on board the double-decker bus to classes of 14 to 19-year-olds from 38 secondary schools and colleges as well as to parents and teachers.
A ribbon cutting ceremony, attended by HeppSY+ representatives, was held at Barkers Pool to mark the official unveiling of the mobile classroom – which gets on the road today for six months.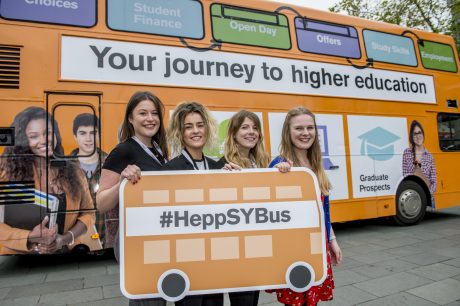 Nicola Rawlins, Director of Admissions and UK Student Recruitment, Sheffield Hallam University, the lead partner for the HeppSY+ programme, said: "Young people who learn more, earn more and gain high level skills that employers need. This campaign aims to unlock the untapped talent of the thousands of young people in our region to transform their career and life prospects."
Professor Wyn Morgan, Vice President for Education, University of Sheffield, added: "Higher education is more inclusive than ever providing young people from diverse backgrounds with a high quality experience that equips them for their future. We have deep roots in our local community and are delighted to work with Sheffield Hallam University, further education colleges and schools on this campaign."
Around 20 students from UTC Sheffield City Centre campus attended the ceremony, and are some of the first young people to road test the new vehicle. The UTC students had a tour of the bus, and listened to talks from the HeppSY+ graduate outreach team.
UTC Sheffield engineering student Jasmine Meynell, 17, said: "I really want to go to university to study architecture. I think this campaign is a great idea because it helps you to overcome the challenge of wondering whether you can do it."
UTC Sheffield creative and digital student Frazer McLean, 17, added: "I think the campaign is definitely a good idea because it will help students better understand the kinds of courses and jobs they can go on to in future."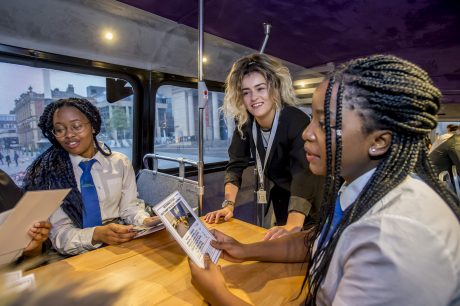 The launch of the double decker mobile classroom marks the first stage of a four-year HeppSY+ campaign to double the number of young people going on to degree level courses and apprenticeships in 45 target electoral wards.
The campaign will provide outreach activity in Barnsley, Doncaster, Rotherham, Sheffield, North East Derbyshire and North Nottinghamshire. Research shows that fewer young people in those areas go on to a university level education at either a further education college or university. Follow us @HeppSY+.
The mobile classroom is fitted with a suite of laptop computers on the top deck, and has an informal meeting area at ground level. Activities on board will include information, presentations, quizzes, question and answer sessions, and the chance to search for university level apprenticeships and courses online. HeppSY+ has recruited five graduates for the outreach team, appointed as higher education engagement assistants. More graduates will be appointed next month.
The HeppSY+ programme is impartial, and is led by Sheffield Hallam University in partnership with the University of Sheffield, Barnsley College, Doncaster College, The Sheffield College, RNN Group, which comprises Rotherham College, Dearne Valley College and North Notts College, and the Higher Education Progression Partnership (HEPP) for Sheffield City Region. HeppSY started in July 2017.