Evaluation & Data
HeppSY is an iterative Programme, which continually adapts according to emerging best practice. The Evaluation and Data Team are at the heart of this process, continually feeding research and evaluation findings into the Programme's design and assisting the future direction of outreach activity.
The iterative delivery-evaluation loop
The evaluation of the HeppSY programme takes a theory-driven approach. Theory-driven evaluation research is based on the premise that all programmes or activities are theories incarnate; they are theories about how we can address a given social problem or gap through intervention. As such, the purpose of evaluation is to construct and then test – through appropriate research methods – these theories and draw conclusions on how effective they were against pre-stated output and outcome targets.
Theory-driven programme evaluation is an iterative process, whereby initial assumptions may alter over time through evaluative evidence which can then be used to amend programme input and targets. The approach leads to a more impactful programme due to the fact that findings around what works can be implemented more intensively. This iterative approach is incredibly beneficial to the HeppSY Programme, enabling it to improve and progress over the lifespan of UCP.
The evaluation uses a mixed methods approach, involving mainly primary research, including an annual survey, pre/post activity surveys, interviews and focus groups with students, parents/carers, school staff and members of the HeppSY team, alongside analysis of registers and student characteristic data through HEAT, and some external case study pieces of research which all feed into the iterative process. Longer-term outcomes are evidenced through the overarching framework and HEAT tracking, and intermediate outcomes are evidenced through smaller evaluations of specific projects.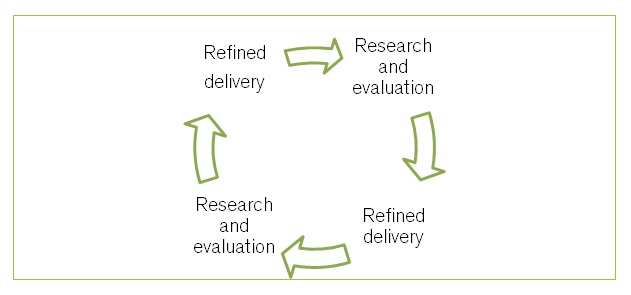 "[The Evaluation and Data Manager's presentation for NEON about the HeppSY evaluation framework] was great to hear…we've come back to work full of ideas and inspired! Good work @HeppSYplus and [the Evaluation and Data Manager]"

Study Higher Berkshire on Twitter @StudyHigherBerk
---
The four HeppSY strands are fundamental to the Programme, with all activities addressing at least one of the following four areas:
Higher education knowledge
Career knowledge
Seeing your future self
Academic confidence and study skills
Key statistics and findings:
Each year over 8,500 young people in South Yorkshire have completed our annual survey
Three quarters (74%) of young people say their family has the greatest influence on their decision about what to do after completing their studies (2020 survey)
There are 39,000 young people in South Yorkshire who are eligible for HeppSY activity
In the 2020/21 academic year, HeppSY worked with 25,922 young people
10,832 young people are on a sustained programme of activity (July 2021)
Engagement with 3-6 hours of HeppSY activity is linked to an increase in students' expectations to apply to higher education
Confidence and aspirations surrounding progression to higher education are increased when students are taken out of their 'comfort zone'
Relatable role models can improve students' sense of fit and confidence surrounding higher education
Data Sharing and Protection:
Data will be processed and shared in accordance with the General Data Protection Regulation (GDPR, 2018) and Data Protection Act 2018, as well as all legislation enacted in the UK in respect of the protection of personal data. As Uni Connect is a collaborative programme, the information gathered will be shared between HeppSY, Sheffield Hallam University, The University of Sheffield and the Higher Education Progression Partnership (Hepp). For specific activity we may also share data gathered with other collaborative and funding partners including South Yorkshire Futures, Local Authorities, partner schools and colleges, and the Office for Students.
The overall data controllers for the HeppSY programme are Sheffield Hallam University and The University of Sheffield, unless otherwise stated in specific agreements. The safety of students is paramount, and we rely on the safeguarding provisions of the Data Protection Act 2018 where concerns around safety and wellbeing are raised. HeppSY and its partners will not release individual information to anyone who is unauthorised. More details about this can be found on Sheffield Hallam University and The University of Sheffield websites:
https://www.shu.ac.uk/outreach-data
https://www.sheffield.ac.uk/outreach/data
Where we outsource work to a supplier, we check that they have adequate security, ensure appropriate contracts are in place and that they process personal data in accordance with data protection laws. Examples of suppliers include online mentoring providers, student enquiry platforms, virtual learning environments (VLE) and other approved outreach delivery organisations. If we need to transfer personal information to another organisation for processing outside the UK, we will only do so if we have appropriate safeguards (protection) in place.
All data will be stored securely, and any reporting will be done so using aggregated data, meaning that individual students will not be identifiable. The partnership does not and will not sell personal data to third party organisations.